Press releases
February 2020: Accreditation for calibration laboratory of A.P. van den Berg

The originally Dutch Cone Penetration Test (CPT) technology delivers important measurement data for estimating soil behaviour and for making reliable foundation designs in the construction industry. Therein the quality of the measuring instruments and the measurements are a determining factor. As of 23 January 2020, the calibration laboratory of A.P. van den Berg in Heerenveen, the Netherlands is the proud bearer of the ISO 17025 accreditation, awarded by the Dutch Accreditation Council. With this, the company has taken a unique global position as a supplier of CPT measuring instruments. A.P. van den Berg provides reliable and accurate CPT cones, now supported by a validated calibration process. Read more.
November 2019: Substantial contract for ultra-deep water CPT technology with major offshore oil company in China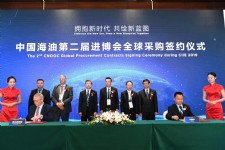 A.P. van den Berg (APB) in Heerenveen, the Netherlands, has recently concluded through its Chinese distributor BST Instruments China Limited (BST), a substantial contract with China Oilfield Services Limited. COSL is a whole subsidiary of China National Offshore Oil Corporation (CNOOC), a major Oil and Gas company in China. The contract entails the development and supply of the WISON-APB-3000, a highly innovative offshore soil investigation system. The system is based on wireline technology to be used on geotechnical drill ships in the growing market of ultra-deep water, in this case water depths up to 3,000 m. Read more.
October 2014: Fifth offshore order from Horizon Geosciences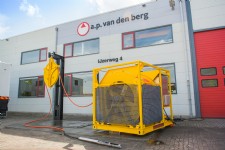 Horizon Geosciences, headquarted in the United Arab Emirates, purchased their fifth offshore soil investigation system from A.P. van den Berg for the purpose of analyzing the seabed's geotechnical condition. Horizon Geosciences already owned a ROSON system (a seabed frame with a wheel drive system to perform CPT's and take samples up to 1,500 m water depth), a HYSON top pusher that is mounted on a platform for near shore soil investigations and two WISON-APB-Classic systems (a wire-line system to perform CPT's and take samples in combination with geotechnical drilling up to 550 m water depth). Read more
October 2013: Winning FME International Business Award 2013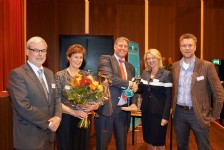 On Thursday 10 October during the annual network event at the Rabobank head office in Utrecht, the Netherlands, A.P. van den Berg has won the FME International Business Award 2013. The company from Heerenveen, the Netherlands, that globally markets its Dutch Cone Penetration Testing (CPT) technology for soil investigation, was elected by their peers in the audience as the most successful internationally active technological company. With this award FME wants to inspire international success in companies. FME president Ineke Dezentjé Hamming cites A.P. van den Berg as "undoubtedly such an inspiring company". Read more
June 2013: Our technology involved in Mars mission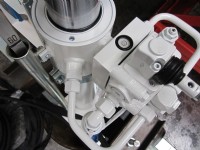 Lightweight in-situ soil investigation systems supplied to NASA (JPL) and the German Aerospace Center
The German Aerospace Center DLR (Deutsches Zentrum für Luft- und Raumfahrt) in Bremen, Germany and Jet Propulsion Laboratory (JPL) of NASA in Pasadena CA, USA, have purchased two identical lightweight soil investigation systems (CPT) from A.P. van den Berg for the benefit of the preparations for "InSight", NASA's mission to Mars. After the launch in March 2016 NASA will investigate the planet's deep interior structure for approximately 2 years to better understand the evolution of the rocky Red Planet. Read more
February 2011: Newest deep water system successfully tested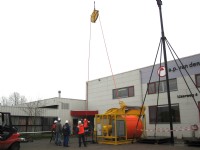 Offshore soil investigation extends to ever increasing depths, where the conditions place greater demands on the technology to be used. The A.P. van den Berg system, called 'the WISON-APB-3000', was specially designed for these conditions. In the first quarter of 2011, one of the A.P. van den Berg customers took the system into use for the first time. On Thursday February 10th, A.P. van den Berg successfully tested the system on its premises. Pre-testing is standard procedure for A.P. van den Berg: this way potential problems can be resolved early on in the process. The situation at sea, where the equipment sometimes descends up to 3,000 m deep, was simulated in a small scale test. Read more
April 2008: Partnership of A.P. van den Berg and Keppel FELS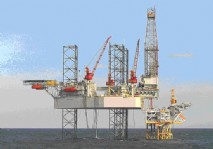 New approach for seabed characterization towards safe installation of jack-up rigs
A.P. van den Berg and Keppel FELS (Singapore) are collaborating to enhance the safety of jack-up rig installations by integrating probes into jack-up rig legs designed to characterize seabed properties prior to installations.
Keppel FELS is part of Keppel Offshore & Marine's global network of 20 yards and the world's leader in the design and construction of jack-up rigs. The partnership with A.P. van den Berg started to develop an integrated soil testing device for jack-up rigs. Read more