Icone Vane
Reliable measurement of soft soils
The vane test allows in-situ measurement of the peak, residual and remoulded undrained shear strength of soft fine-grained materials such as clay, silt and mine tailings. Once the vane instrument is at the correct depth, it measures how much force it takes to rotate the blades. The data is recorded at the surface and plots are displayed in real time for visual assessment. The undrained shear strength of the soil is calculated on the basis of this measured data. For accurate vane tests, A.P. van den Berg has developed the digital Icone Vane.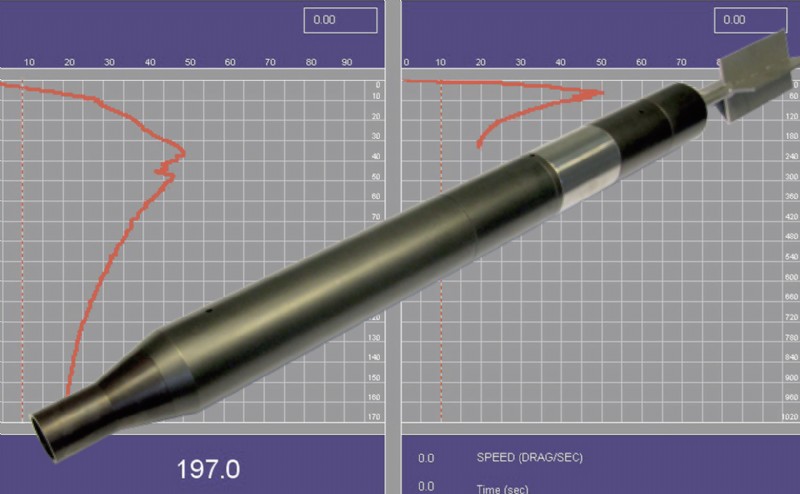 Accurate digital measurements
The digital Icone Vane comprises a down-the-hole assembly equipped with a drive motor to apply torque at depth and sensors to measure the torque required to rotate the blades. The Icone Vane is supplied with four blades sizes. The blade size is generally selected depending on the anticipated peak undrained shear strength at the target depth. To prevent damage, the drive motor and torque assembly are preconfigured to apply a maximum torque of 100 Nm.
Adjustable rotation speed
The Icone Vane is available in two versions with the following rotation rates:
Slow version: adjustable rotation speed of 0.1 to 6° per second for very accurate shear tests.
Fast version: adjustable rotation speed of 0.2 to 12° per second for fast remoulding of the soil in situations with a low shear value.
The rotation rate for testing can be selected within the range of each version.

An option to include a protection sleeve allows completion of various vane tests at different depths and that will increase production as it eliminates drill outs and pulling out the equipment assembly between tests.

The Icone Vane can be used with all onshore and offshore A.P. van den Berg equipment. The equipment can be used for offshore testing to a maximum water depth of 4,000 m.