ST-Rods applied offshore
Some time ago we sent you the newsflash about our brand new ST-Rods, that can be easily folded onto a reel. This newsflash did not remain unnoticed and many of you called the SingleTwist™-system "a very promising development". We still haven't fully explored the potential of this innovation, but we are now ready to introduce some concrete applications, one of them being the ROSON-ST.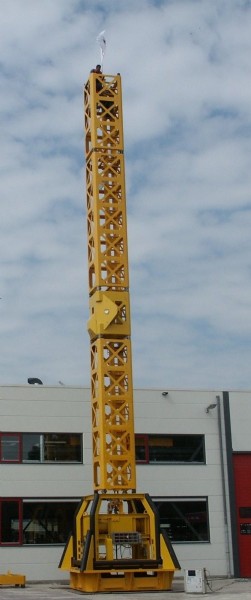 The ROSON-ST builds on the unrivalled track record of our existing ROSON and Icone technologies. The fully digital Icone is around for some 10 years now and the ROSON technology has proven itself for robustness, reliability and CPT quality over the last 30 years. The remaining challenge has been to eliminate the need to support the CPT string, particularely with ever increasing CPT penetration depths. This external string support, see an (extreme) example on the left, makes a ROSON system heavier, more difficult to handle and time consuming to set up. Compact solutions available in the market today, however, introduce shortcomings of their own, concerning achievable penetration depth, data reliability, cone sizes to choose from and increased wear and tear.

​With the ROSON-ST we provide the answer to all of these issues! By incorporating the patented ST-Rods in our seabed system, a compact and easy to handle ROSON-ST is created. It is suitable for 50 m penetration of 36 mm rods, works with all Icone sizes and click-on modules and does not require any exterior CPT string support, assuring fast deployment and high productivity. The use of standard 36 mm rods with a sturdy threaded coupling ensures the straight push that customers may expect from a CPT system. Click here for the movie.
With water depth ratings up to 4,000 m, an A.P. van den Berg ROSON can be deployed for projects from shallow to ultra-deep water. The standard configuration with a 10 tons pushing force will be more than enough for the majority of your projects, but a 20 tons version is also available. The system is conveniently controlled via a single HMI touch screen and is compatible with our versatile digital Icone data acquisition system, the full range of 5 cm2, 10 cm2 and 15 cm2 CPT cones and all click-on modules for Seismic, Vane, Conductivity or Magneto testing.

In our factory we have a demonstration unit set-up, so you are cordially invited for a "live" experience of this unique system. Contact us to make an appointment.