Redesign Vacuum Device, 4 January 2016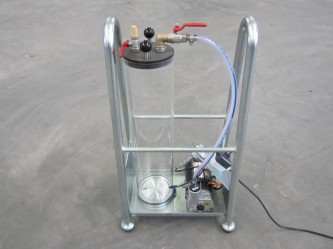 In addition to the cone resistance and the local friction, a Piezocone is able to measure the pore water pressure of the soil. In order to obtain an excellent pore water measurement, the space between the pressure sensor inside the cone and the outside of the filter, including the filter itself, has to be fully deaerated and filled with silicone oil. Our Vacuum Device is recommended for this operation and has been redesigned to fully suit your working situations.

As the Vacuum Device is often used in restricted working areas and is moved on site frequently, we have made the device more compact an lighter. This was all possible by using a new first class compact and light vacuum pump. As we always take the environment into consideration, we integrated a drip tray for unforeseen oil leakage. The result is an environmental friendly and easy to carry and store Vacuum Device.

The fully closed vacuum vessel can hold up to three 10 cm2 cones or two 15 cm2 cones and is filled with silicone oil. New filters can be used without the need to deaerate these in advance. Deaerating a cone takes less than 60 minutes and additional tools are not needed. The Vacuum Device now comes in two power versions: 230 Vac/50 Hz or 115 Vac/60 Hz.

Curious how our Vacuum Device works? Watch the instruction movie here.