Icone calibrations under accreditation
29-04-2020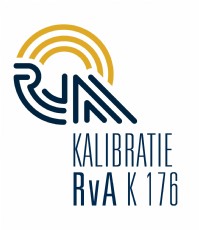 In February 2020 we already shared our press release confirming that our calibration laboratory in Heerenveen, the Netherlands received the ISO 17025 accreditation, awarded by the Dutch Accreditation Council (RvA), valid as per 23 January 2020. This has strengthened our unique global position as a supplier of CPT measuring instruments. A.P. van den Berg provides reliable and accurate CPT cones, now supported by a validated calibration process.

With this accreditation our Icones have not changed; these already amply met the highest quality classes for CPT. In our laboratory however procedures have been introduced and tightened with the aim of determining and reducing the measurement uncertainties. This has further raised the accuracy, reliability and consistency of the measurement data and this will also be regularly checked by the RvA.

For our customers, the CPT companies, it is important that their measurements are accepted by clients and other involved authorities. We are now allowed to display the RvA logo on the Icone calibration certificates. This logo is recognized internationally, so customers worldwide can take advantage of the reliability of the A.P. van den Berg calibration laboratory. In the case of doubt about a specific measurement, this lab is the "highest authority" in determining whether the cone has measured correctly. For more information about the scope of the accreditation of the calibration laboratory, we refer you to the publication on the website of the RvA (www.rva.nl).

Since 23 January our calibration laboratory has been ready to calibrate Icones under accreditation as an option for our customers. However, to avoid the requirement to maintain two procedures we have decided to change our calibration policy. We are proud to announce that as of 1 May 2020, each Icone, new or used, will be calibrated under the ISO 17025 accreditation and will be delivered accompanied by a calibration certificate with the RvA accreditation mark.

The ISO 17025 accreditation is valid for the calibration of the tip resistance, sleeve friction, inclination and pore water pressure following the CPT standards as described in the ISO 22476-1. We standardly calibrate to class 2. Upon request and for an extra fee we can calibrate to class 1, still under accreditation. We will continue to offer the possibility to calibrate in compliance with other standards (custom calibration) or to calibrate other measures like alpha factor or temperature. These calibrations however fall outside of the scope of our accreditation.

In summary, all Icone users will now benefit from our accredited calibration laboratory, because all calibrations of Icones in compliance with ISO 22476-1 class 1 or 2 will be standardly performed under the ISO 17025 accreditation. If you have any questions about Icone or Icone calibrations, please contact one of our sales engineers Johan and Eddy.