A.P. van den Berg works with a regional construction team on new building premises
15-07-2021
A.P. van den Berg plans to build a sustainable and future-proof building on the recently acquired business plot at the International Business Park Friesland in Heerenveen in The Netherlands. In order to realize this, A.P. van den Berg has already engaged various partners at an early stage. This regional construction team is now going to realize the new business premises, which will allow A.P. van den Berg to move forward for at least 30 years.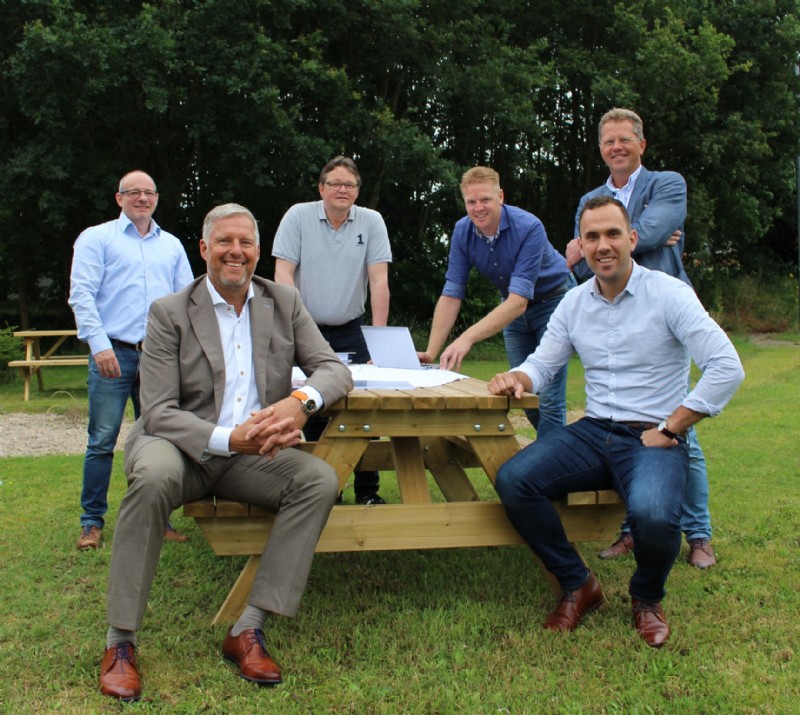 Standing f.l.t.r.: Wiggert Amsterdam (INNAX), Siemen Meijer (Heeren 3 Architecten), Auke Bangma (Lont) en Harry Meijer (Meijer & Joustra). Sitting f.l.t.r.: Mark Woollard (A.P. van den Berg) en David Peter Kuiper (DAK2 Duurzaamheidsadvies).
Sustainable and future-proof
Mark Woollard, Managing Director of A.P. van den Berg, is closely involved in the new construction plans: "In our business operations we strive for a comfortable and efficient working environment. The current facilities at the IJzerweg in Heerenveen have come to maturity in phases in approximately 30 years, but due to the growth in recent years, we have now definitely outgrown our jacket. The new building gives us the opportunity to optimize the energetic aspect, whereby a healthy working climate has priority. In addition, an efficient layout, certainly for our production process, is important. We use this knowledge to optimize the routing in our new building, especially in production."
Regional construction team
"By applying the construction team principle, we work as one team on our new construction project from start to finish, whereby each party contributes its own expertise from the start and can take on its own role and responsibility. Moreover, it is a nice fact that our construction team consists of only Frisian players," says Mark Woollard.

From the start of the project, the feasibility study, DAK2 Sustainability Advice and Heeren 3 Architecten were involved in the project. From the design process, Ingenieursburo Meijer & Joustra, for the design and elaboration of the architectural structures, and building physics bureau INNAX, for the integral vision on energy, environment and technology, were added to the construction team. Finally, A.P. van den Berg recently chose Lont as the main contractor for the realization of the design. Like A.P. van den Berg, Lont is a family business and combines human values ​​with innovative designs.

"By carefully forming this construction team with partners that really suit our company, we have laid the foundation for a successful collaboration and the realization of a beautiful new factory and office in which our employees can continue to enjoy working for a long time," concludes. Mark Woollard.