17-22 Sep 2017: 19th ICSMGE in Seoul, Korea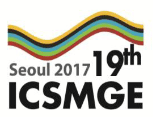 From 17 to 22 September 2017 the 19th International Conference on Soil Mechanics and Geotechnical Engineering is taking place in the COEX Convention Centre in Seoul, Korea. Previous editions were held in Paris in 2013, in Egypt in 2009 and in Japan in 2005.

The theme of the 19th ICSMGE is "Unearth the Future, Connect Beyond." It is about bridging the gaps between past and future, between young and senior engineers, and between developing and developed nations among others. Making these connections is the key to greater innovations.

We are participating with a booth and will present our own innovations in CPT technology. Your are cordially invited to visit our booth, number 27. If you would like to make an appointment with Mark Woollard, who will be present, please contact Mirjam Delea via m.delea@apvandenberg.nl or +31 513 631355.